Mission Statement
Treasure State Cutting Club (DBA TSCHA) was organized to provide a venue for cutting horse enthusiasts from beginner level to advanced, in a family-oriented setting. Equine activities in Montana are based in the rural culture of cattle ranching, where contest cutting was begun. One of the basic tasks of ranch work is the sorting of cattle according to age, gender, or destination. The best horses for the job are quick, athletic, and loaded with 'cow sense'. A good cutting horse is the elite of the performance horse world.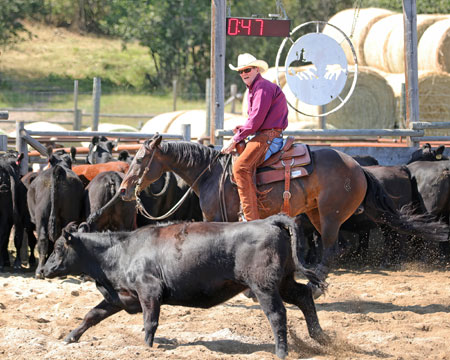 The purpose of the group was apparent from the beginning: to promote a horse related event to those that were not interested or not ready to compete in the national affiliate for the sport, but wanted to show, learn, and enjoy cutting. Many of our members do not live on ranches or have access to cattle to work their horses, but relish an opportunity to do so.
The TSCHA began in 2014 with a group of dedicated cutters who wanted a place to show their horses in a local venue at a cost that was reasonable for all. Those members new to the sport would have friendly coaches, compatible contestants, and little travel. At a January meeting, we elected officers, approved Bylaws, and scheduled shows. Our emphasis was classes for beginners (Green Rider) and inexperienced horses (Green Horse and both Open and Non Pro Novice Horse). By September, we had held six shows and had 53 paid members. More experienced members took turns judging the classes on a volunteer basis. We held an awards celebration at the end of the season and gave prizes through fourth place in all classes.
Our second year featured six cutting shows, one of which was a two-day event. We expanded to nine classes and 75 members. We hired and paid our judges, and began a youth class to emphasize the family aspect of the club. Several of our members who are professional trainers have provided local lessons at a very reasonable cost. We held three 'Never Won a Buckle' classes, open to any rider that had not won a trophy belt buckle. One of our three winners was at the very first cutting he had ever entered or attended!
Goals for 2023 include continuing to build upon our existing membership with emphasis on Cowhorse participation, offering a beginners clinic and a turnback clinic. We wish to advance the level of basic horsemanship as well as develop expertise in the cutting pen. Members can also take advantage of becoming part of the extended family of enthusiasts in the cutting world, and as they develop their skills, they can advance up the ladder to regional and national competition if they desire. Trainers have the opportunity to bring their beginner clients to a relaxed setting to practice their new sport.
Our activities have been 90% show competition, and 10% organizational such as meetings, awards celebrations, and planning. We hope to add educational activities during our off season, to include classroom clinics, video shows and other informal gatherings of members. The educational aspect will also include clinics where members will bring their horses and advance their skills both in horsemanship and cattle handling. As our membership includes both inexperienced cutters and professional trainers, we strive to hold clinics that will suit both levels of needed instruction. For the future, a goal of 10% planning/organizational, 20% educational, and 70% competition activities seems reasonable.
The Board of Directors will organize clinics and hire the clinicians for the upper-level riders. Several of our directors are professional trainers and can spearhead the clinics and educational gatherings for the less experienced. Specific topics for classroom instruction include rulebook and judging, and videos available from the National Cutting Horse Association (NCHA) and National Reined Cow Horse Association (NRCHA) on showing. We invite local high school rodeo club members to our functions, as cutting is an approved event in their competitions.
In 2022 the board of directors decided to modify the club's name to a DBA: Treasure State Cutting Horse Association for marketing purposes. We now proudly offer 15 classes including fresh and used cattle and have successfully incorporated several Cowhorse classes. We continue to strive to provide affordable rates, great venues for competitors, comradery with fellow cutters and opportunities to advance.